Harley Village and supporting program
All information about the Expo, concerts and more.
At the 24th European Bike Week there will once again be a Harley Village in and around the grounds of the farmers' market on Faaker See, with numerous Harley dealers.In addition to the popular Farmers' Market, the Carinthian Corner, the Harley Bar, and the Customizer Area, concerts, a custom bike show, and demo rides are also planned.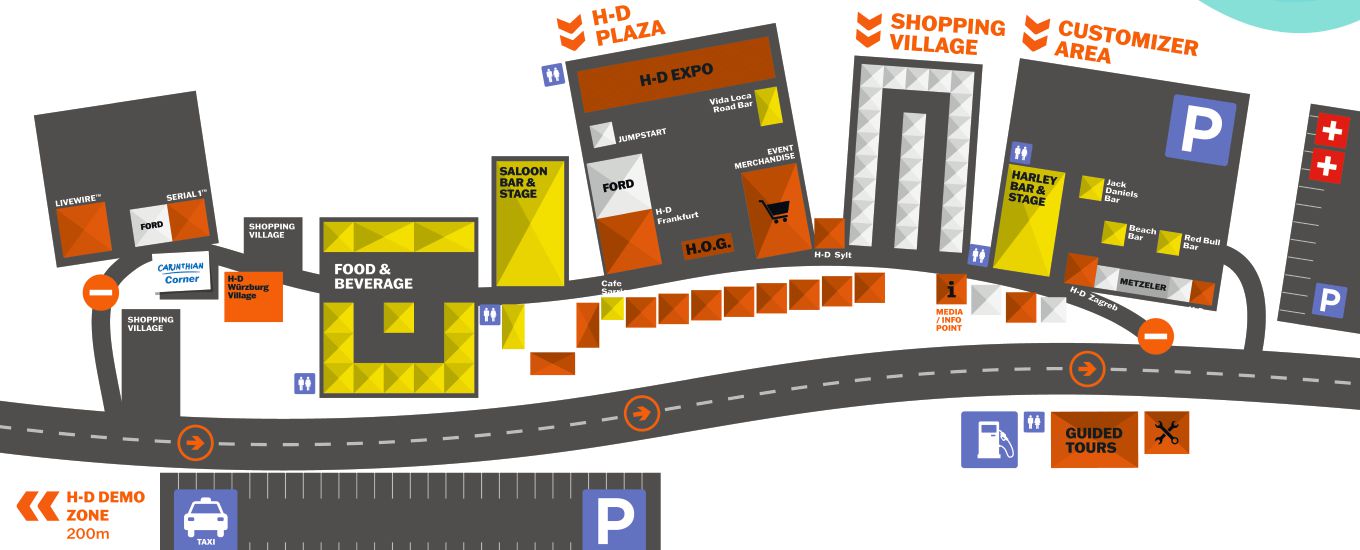 Opening times
The Harley-Davidson Zone is open from Tuesday, 6 September through Saturday, 10 September from 10 a.m. to 6 p.m., and on Sunday, 11 September from 10 a.m. to 1 p.m.
Programm im Harley-Village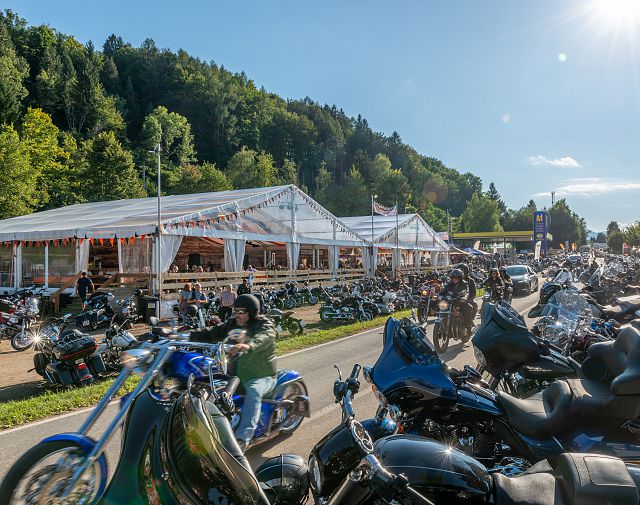 Expo
One event anchor again this year is the Harley-Davidson Expo, with an extensive selection of the newest bikes from the 2022 model year and with custom inspiration from the region. Here, H.O.G. members can chat with each other or with the Harley-Davidson team.

Test rides
Test drive some of the most popular 2022 Harley-Davidson bikes from the Sport, Cruiser, Grand American Touring, and Adventure Touring Probe families. There will also be a special test-ride program with the Pan AmericaTM models, and intensive work is being done to have both the latest Harley-Davidson models as well as the Serial 1 e-bikes on-site.

Competent team
The dedicated and experienced Harley-Davidson team is ready to welcome you to European Bike Week 2022, and is looking forward to meeting you in Austria.

Shopping village
More than 100 vendors will present their products on the shopping street in the Harley Village

authorised Harley-Davidson Dealer
We are expecting a number of authorized H-D dealers again this year to showcase their latest offerings in apparel and accessories.

Custom Bike Show
On Friday, the most beautiful and spectacular custom bikes will again be chosen. Registration is free and starts at 11:00 a.m. The awards ceremony will take place at 5 p.m.

Guided tour
On three days there will be guided tours beginning at 9 a.m. led by the H.O.G. Carinthia Chapter. www.kaerntenchapter.at/touren
Concerts at Harley Village 2022
Line up - Harley Bar
Dado
Countervalley
Voodoo Strat
Jimi Hendrix Tribute
Duo Selection
Thunderballs
Buzgi
Ring Fire Gordon Band
Real Beat
Basf
Status Quo DG
Devil Ducks
Def Crue
Aigner/Unterberger
Prof. Washboard
Celtica
Pipes Rock
Stiletto
Line up - Saloon Bar
Deddy & the Wheels
Contra
Strike
Stephan Heiner
Crooks & Straights
Tobacco Road Blues Band
Markus Wutte
Gary Howard - The voice of Flying Pickets
Lets Fezz
Bosstria Bruce Springsteen DG
Strongbow
Bruzzler
Prof. Washboard
Andy Lee Lang
Wolfgang Fierek und Band
Carinthian Corner
For years the Carinthian Corner has been a popular meeting point at European Bike Week. Located right next to the Harley Village in Faak am See, selected local craftspeople, producers, and restaurateurs present their products and services. It's an all-around authentic regional opportunity for relaxed shopping, eating, and drinking

Opening hours:
Tue [09/06] - Sat [09/10]: 10 a.m. - midnight

Outdoor Kitchen by Grossegger:
From Tuesday to Saturday, local culinary artists offer Alps-Adriatic cuisine and biker specialities.The award-winning chef from Gasthof Alte Point and the Carinthian Seal of Quality recipients from the Schwarzsee Hut are looking forward to your visit
Offers at Carinthian Corner
Official Faaker See biker shirts from the market town of Finkenstein
Carinthian Lounge
Info Point
Photo spot of the Region Villach - Faaker See - Ossiacher See
Leather goods from Kronig's Ledermanufaktur
Exclusive biker accessoires
Angus beef specialities
Culinary offerings from the "Pavia di Udine" partner region
Arneitz-Village
This year's line-up in Arneitz-Village brings top acts to Faak and starts on September 1st. Tickets are required for 3 days (for worlds biggest tribute to AC/DC - We Salute You and Stahlzeit), for all other acts entry is free! At the Biker Market in the Arneitz Custom Bike World, discover a large number of dealers for a relaxed stroll and shopping.
Tickets for the 3 concerts with admission are available online here or in the Arneitz restaurant. Discounted combination tickets are available here.
After the shows, the after-show party takes place in the House of Rock, THE night bar, until 4:00 in the morning! The Rock Party @Faak!
Konzerte im Arneitz Village
01.09., 19:45 Uhr: Meilenstein - Free entry
02.09., 20:00 Uhr: Werner Otti - Free entry
03.09., 20:00 Uhr: Antenne Disco - Free entry
04.09., 20:00 Uhr: Strongbow - Free entry
05.09., 20:00 Uhr: Strongbow - Free entry
06.09., 21:00 Uhr: AC/DC - We Salute You - Worlds biggest tribute to AC/DC - Tickets needed
07.09., 21:00 Uhr: Stahlzeit - Tickets needed
08.09., 21:00 Uhr: Stahlzeit - Tickets needed
09.09., 20:30 Uhr: The Monroes - Free entry
10.09., 20:30 Uhr: The Monroes - Free entry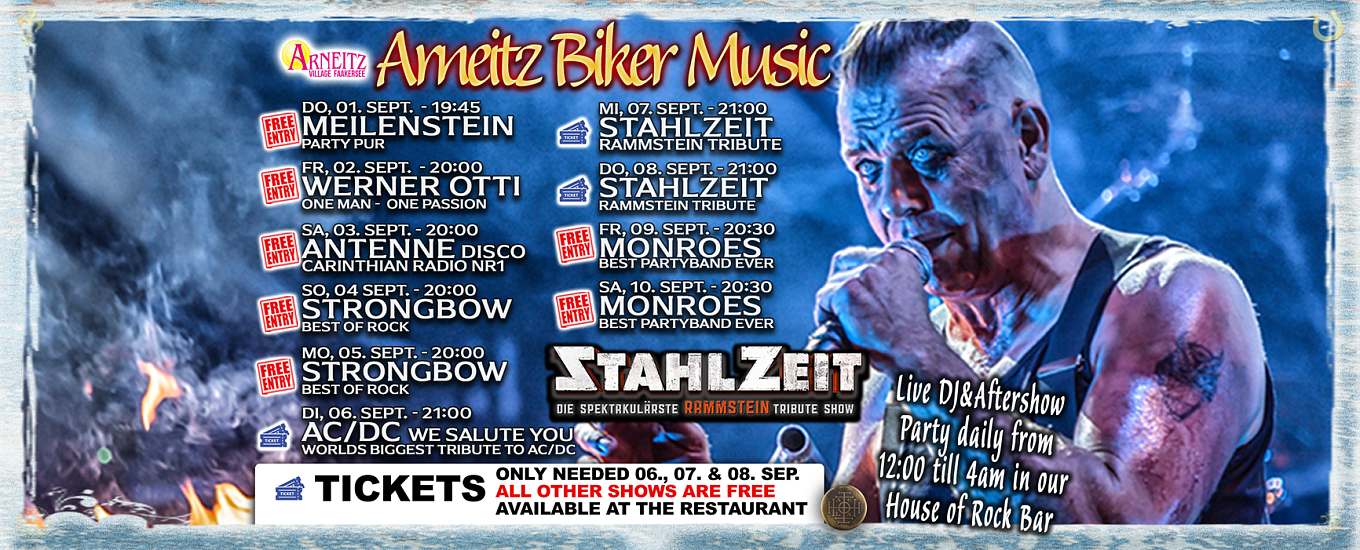 Bikers welcome & draupuls show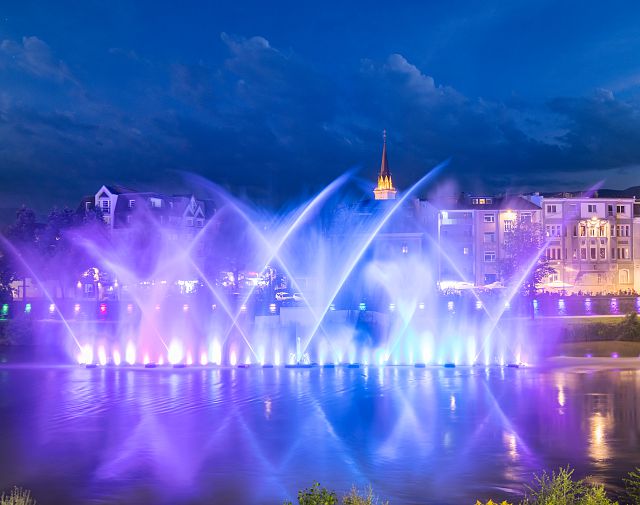 As in previous years, Villach's old town is giving motorcyclists a very special welcome this year.

The beloved VIP parking spots in the pedestrian zone have again been put in place, specially for #BackToTheRoads. This way you can park your bike right where the action isUntil lateautumn, Villach's downtown is showcasing itself as Carinthia's most beautiful living room. Enlarged outdoor dining areas, extraordinary decorations, special shopping nights, the most diverse cultural program, and a spectacular water show on the Drau River provide variety.There is an extra special water show offered again this year, dedicated to all rock fans. With spectacular lighting effects, optical highlights, and musical accompaniment, the DRAUpuls multimedia water show is mesmerizing.A special #Backtotheroads program called "Rock-IT" will be performed.

Every day from 5-10 September beginning at 9:30 p.m. you can experience everything that gets your rocker heart pumping, right on the Drau River in Villach's downtown.A trip to the center of the region thus becomes a very special experience.

More information at: www.draupuls.at